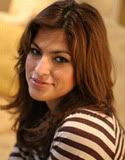 Q: Who is she?
A: She is Eva Mendes. An American female celebrity who was born in Miami to Cuban parents.

Q: How old is she?
A: Eva Mendes was born in March 5, 1974, so now she's about 34 years old.

Q: What does she do before acting?
A: Before acting Eva Mendes attended Hoover High School in Glendale and later she attended California State University, Northridge to study in marketing. After meeting Zedrick Threatt, Eva begin an acting career and dropped out the school. Mendes worked her way up through comercials to music video. She appears in Will Smith's video "Miami" and the Pet Shop Boys music video for "Se a vida é (That's the way life is)" in 1996.

Q: What was her first film appearance?
A: Eva Mendes first role in a film was a direct-to-video film titled Children of the Corn V: Fields of Terror. Her first big break was when she appeared in critically acclaimed award winning movie "Training Day".

Q: Her filmography?
A: Eva Mendes filmography

Q: Some of her pictures and wallpaper for my desktop?
A: Here's some of Eva Mendes Pictures and Wallpapers for your desktop..